An important part of the Autodrome's historical and architectural heritage that we intend to restore and recover are the pit boxes, which date from 1923. What makes them so special is that they are in almost perfect original condition, making them a unique piece of global motor racing history.
At that time, almost 100 years ago, there were two specific spaces for the hectic work of keeping the cars moving. The most fast-paced activity took place in front of the stands, where there was a simple barrier with a large window for track service, refuelling, repairs, spark plug changes, carburettor adjustments and tyre changes. This area has since disappeared but was situated roughly where the weighing scale exists today.
The second place was the pit boxes, which are still standing today next to the track service area. This area was designed for longer work or as a simple garage for the race cars, regular attendees or important fans.

These two images show us just what this historical place was like. The two pit buildings are identical and an exact copy of those that exist at Monza. Only one is in its original state – the one on the north side.
The photograph below was taken during the official training sessions for the Autodrome's inauguration. Here, we can see the pit boxes being built (which also happened in record time) and that there was already a lot of activity on the track.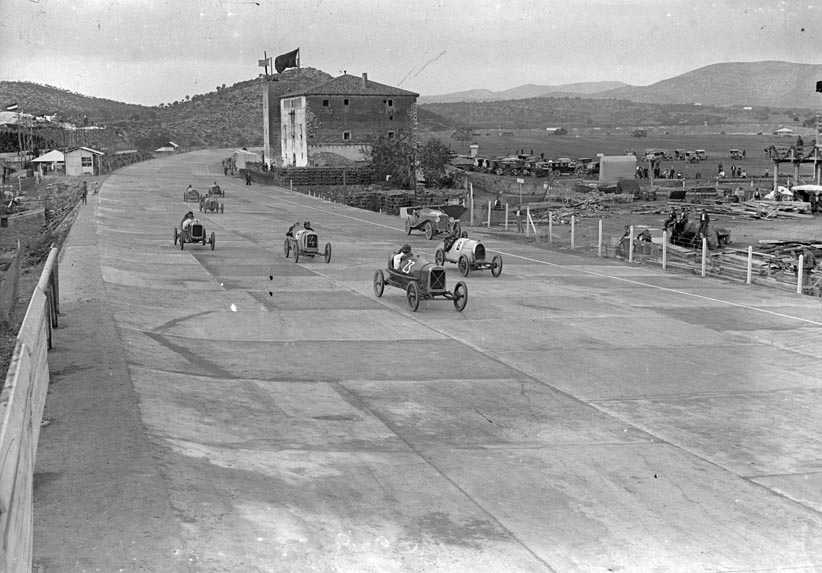 What vehicles were kept in the pit boxes?

Interestingly, some prominent upper-class figures from Barcelona, such as the Coma-Cros family, the Bertrand i Serra family, the Güells and many other industrialists, merchants and bankers, helped create a truly authentic racing atmosphere here.
Count Edgar de Morawitz (who would later own the site after car builder and industrialist Wifredo Ricart, who built the Champion building) kept his team's five Bugattis in one of the pit boxes for use by friends or regular customers.
They could even be rented out at the Autodrome, and he had them each painted a different colour so that they could be easily spotted on the track.
In the 1970s, the pit boxes were modified to include some horse stables on the south side, making the doors smaller and double-sided and changing the roof which was originally two-leafed. This made it into a beautiful Catalan-style vault, which was almost certainly very effective too since there are no leaks or drips, even after all this time. As you can see, mentioning cars and horses in the same breath at the Autodrome is nothing new.

Here is what the pit boxes currently look like today after they were turned into stables in the 70s.