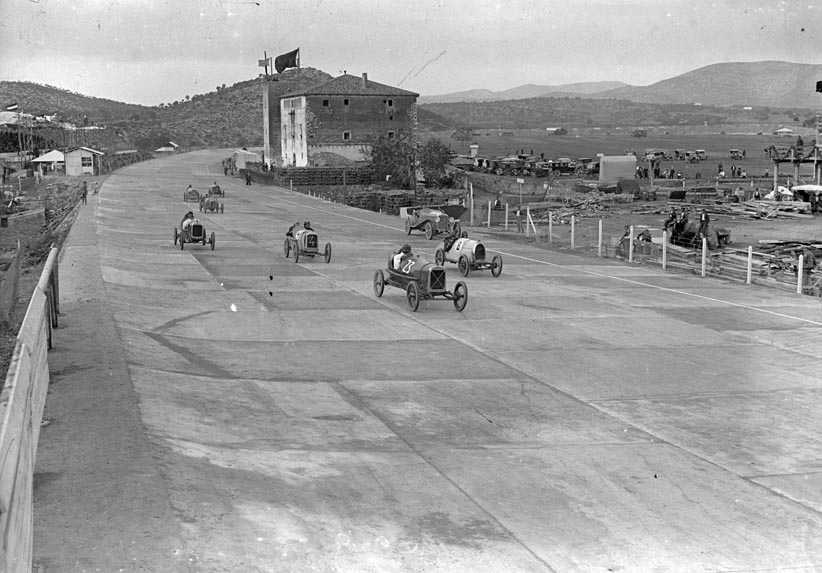 The first races at the Autodrome in autumn 1923 mainly focused on cars and motorcycles. But there were also two other types of vehicles at that time whose popularity didn't last much beyond the 1920s – voiturettes and cyclecars. Voiturettes were smaller hot rods with smaller engines that companies sometimes raced. Cyclecars, on the other hand, were even smaller but more popular, particularly in the 1910s and 1920s.
Cyclecars had a design halfway between a motorcycle and a car. They were single-cylinder or twin-cylinder utility vehicles that had light bodies and were easy to drive. At the time, cars were considerably more expensive, and since cyclecars were easier to drive, they enjoyed a certain popularity in the 1910s in various European countries, particularly in France, Germany and the United Kingdom.
The first cyclecar competition was held in 1913, and shortly after the First World War, a cyclecar Grand Prix was held at Le Mans (1920). However, not long after this, car manufacturers lowered their prices. With the cyclecar's main selling point being its affordability, this move would consign the cyclecar to the history books.
Cyclecars did indeed feature in the inaugural races at the Autodrome, which lasted an entire week. The vehicles that participated had 1100cc engines and had to complete laps of the track over a total distance of 400 km.
This race was originally planned for 1 November, but strong downpours led to its postponement and the race was eventually held on 4 November at 8 o'clock in the morning (back then, there were no TV schedules to worry about). The race was won by French driver Robert Benoist, who was just one of many international figures who had come to take part in the first races at the Autodrome.
Benoist drove a Salmson, a manufacturer that won many of these races, as did the manufacturer Sunbeam. In fact, another French driver, Albert Divo, dominated the car races with his Sunbeam. With his victory, Benoist was awarded a cup presented by the Town Hall of Sant Pere de Ribes.
In November 1925, cyclecars were once again seen at the Autodrome, along with Voiturettes and sidecars, motorcycles and cars. But by then, the general public was already losing interest in them, and they began to lose popularity. However, they will always have a place in the history of the Autodrome and those inaugural races.